USC CGSCM offers performance improvement courses for managers and executives seeking high performance results
USC Marshall Center for Global Supply Management offers certification in Lean Six Sigma performance improvement. Taught by world class Master Black Belt faculty who has led corporate transformation, our Lean Six Sigma certificate courses are designed for professionals seeking to standardize high performance in their organizations.
Lean Six Sigma is a widely-used methodical approach to improve business performance by reducing waste and increasing efficiency. With today's companies facing continually rising costs and increasing competition, Lean Six Sigma certified professionals have become increasingly desirable in Operations and Supply Chain Management roles.
What is Lean Six Sigma?
Lean Six Sigma combines LEAN quality control and Six Sigma methodologies, to result in increased efficient production with the lowest possible defects.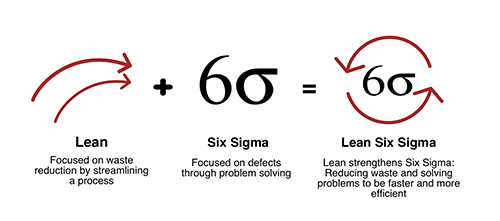 To be certified as a Lean Six Sigma, you can take up to three courses:
Lean Six Sigma Yellow Belt

Lean Six Sigma Green Belt

Lean Six Sigma Black Belt
*Students will receive certification upon completion of each course.
Lean Six Sigma Yellow Belt
This Lean Six Sigma Yellow Belt course develops the critical skills required to serve on successful and collaborative project teams. Based on the industry standard "body of knowledge," learn the roadmap known as Define, Measure, Analyze, Identify and Control (DMAIC) for a thorough understanding of Yellow Belt concepts.
Date and Time: TBA
The Lean Six Sigma Yellow Belt certification course offered by the USC Center for Global Supply Chain Management exposed me to the tools and skills offered by the practice. We reviewed the application of lean and six sigma principles to not only supply chain management cases, but business practices across a large spectrum. This course inspired me to pursue my Green Belt certification and made me a more desirable employee and team member. The staff at the Center are extremely helpful and enthusiastic about their programs, which made the experience all the better.
– Reid Thom
M.S. Global Supply Chain Management candidate, December 2017
Lean Six Sigma Green Belt
This Lean Six Sigma Green Belt course will dive deeply into the universally-practiced process improvement methodologies of Lean Six Sigma, with both theoretical and practical components.
This course will first teach students the Lean Six Sigma methodologies, then have the students successfully implement process improvement on real-live projects they bring to the course. With the instructors' guidance, students will use data collection and analysis skills, and enact quantifiable improvements their chosen projects.
Date and Time:
Week 1:
Topic: Introduction to Lean, Define Phase, Managing the Project
Instructor: Amy Altomare
Week 2:
Topic: Measure Phase & Analyze Phase
Instructor: David Law
Week 3:
Topic: Analyze Phase & Improve Phase
Instructor: David Law
Week 4:
Topic: Improve Phase, Control Phase
Instructor: Amy Altomare
Lean Six Sigma Black Belt
This Black Belt course will build on your Lean Six Sigma Green Belt knowledge, and give you full mastery for leading Lean Six Sigma projects. This course will teach advanced techniques of Design for Lean Six Sigma through a process known as DMADV (Define, Measure, Analyze, Design, Verify), and also different statistical methods to make data-driven decisions. You will also learn how to identify and prioritize the needs of different stakeholders of the processes, and design your LSS project for continual improvement.
The above concepts will be practiced through a hands-on approach, on a real "live" project of your choosing that you would bring to this course. At the end of this course, you would have successfully executed a Lean Six Sigma Black Belt improvement on your chosen project.
Date and Time: TBA
Learn More
Faculty
Our Lean Six Sigma course will be led by the Center's Executive Director Nick Vyas. He is a nationally recognized expert in Global Supply Chain and Lean Six Sigma application with practical and academic knowledge. He has run global supply chains for Fortune 500 companies with proven results and robust transformation.
Facilities
Our center has a state-of-art classroom with a 60-seat capacity as well as multiple conference rooms for breakout sessions. All rooms are equipped with Cisco teleconferencing equipment, document reader, presenter and two lectures with HDMI and VGA end ports. The Center is located two miles north of the USC University Park Campus in one of Los Angeles' landmark high-rises just blocks away from L.A. Live and the Staples Center.