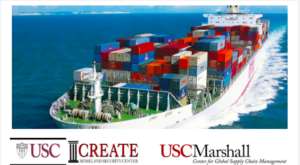 Port Solutions Project:
The Ports of Los Angeles and Long Beach, the largest container port complex in the United States, makes up the nation's largest gateway for international trade and handle 40% of US containerized imports and 34% of Us containerized combined imports and exports. However, in recent years, the increased competition and ongoing operational inefficiencies are placing the Ports of Los Angeles and Long Beach at risk of losing additional market share, which would have a serious effect on the regional and national economy.
The students and faculty from the USC Center for Global Supply Chain Management have undertaken a project involving cutting-edge research into the inefficiencies and waste causing port congestion and the use of evolving technologies in streamlining port operations. The Center has positioned itself with the Ports of Los Angeles and Long Beach as a model of innovative thought leadership in research and practice. The Center has collaborated with both public and private organizations for multi-year, multi-tiered, collaborative research projects that can build up the blueprint for the Ports of Los Angeles and Long beach to ensure their status as a global leader.
Our objective, upon conclusion of this multi-year project, is to transform the Ports of Los Angeles and Long Beach into a world class model in terms of efficiency and to ensure that all stakeholders can assess the benefits of creating a close partnership for the system's comprehensive improvement. The Los Angeles and Long Beach ports solution will become a prototype for all other ports to follow.
Click Here to download the Port Solutions Research White Paper
CO₂ Research Project:
At the USC Center for Global Supply Chain Management we pride ourselves on being thought leaders and at the forefront of cutting-edge research. One of the key issues facing global supply chain is sustainability. Currently, our students and faculty are working with the Ports of Los Angeles and Long Beach to address the carbon pollution problem in San Pedro Bay.
The objective of the Center is to conduct thought provoking statistical research on how to reduce the carbon footprint of supply chain trucking. This research will focus on how supply chain trucking companies can combat, reduce, and measure their carbon footprint. This scientific research will be complied and used to make recommendations on how to improve trucking practices into the port, and to improve the outlook of the carbon footprint in the Ports of Los Angeles and Long Beach.
Cancer Research Project
A team of students from Marshall School of Business together with stakeholders from CISO formed, including staff from CISO, CTU, CTO, IRB and CIC gathered for a Kaizen Retreat. The Kaizen involved, a thorough review of the current-state process for clinical trial activation; where root causes were identified, and different tools such as fishbone and SIPOC diagrams were utilized to provide a better picture of current processes.
Methods performed to analyze the data collected from CISO, included, PCE, T-test and Discrete event simulation, value- added steps and improvement opportunities were identified to accelerate the development and approval of cancer-related clinical trials.
The desired outcome is to identify bottlenecks that exists in the trial development process, and will reduce the current start to activation lead-time of approximately 24 weeks.