Back
Supply Chain Digital Transformation Conference
Phase One: Innovating Port Community IT Systems
[smartslider3 slider=8]
Background
---
The rise in globalization over the last quarter century has paved the way for incredible improvements of physical product flow in worldwide value chains.  On a parallel path, technology ecosystems have rapidly evolved with the help of speed, storage and communication channels. Unfortunately, these two paths have not intersected gracefully to embrace information flow at the scale of physical network complexities. Industry leaders are expressing prominent and common concerns, ranging from data visibility and integration to enterprise security.
Over the past decade, the Big Data produced by the leveraging of digital technologies, and the digitization of analog processes, has impacted almost every aspect of the global economy. Conventional models of commerce have been disrupted through simplification, transparency, and speed. In a similar vein, the global supply chain has been actively moving traditional processes like procurement and invoicing online to realize efficiency and reduced cycle time between trading partners. While this movement is commendable, it is only scratching the surface of what could be realized.
Expanding the scope of supply chain digitalization to integrate and standardize the data available from source to sale, and raw material to store-shelf is paramount to enabling the aforementioned paths to intersect.  The emergence of digital commerce and the every-channel supply chain has pressured the existing infrastructure. Redesigning supply networks to operate in the digital economy requires supply chain thought leaders to accelerate the move to enhanced digital capabilities.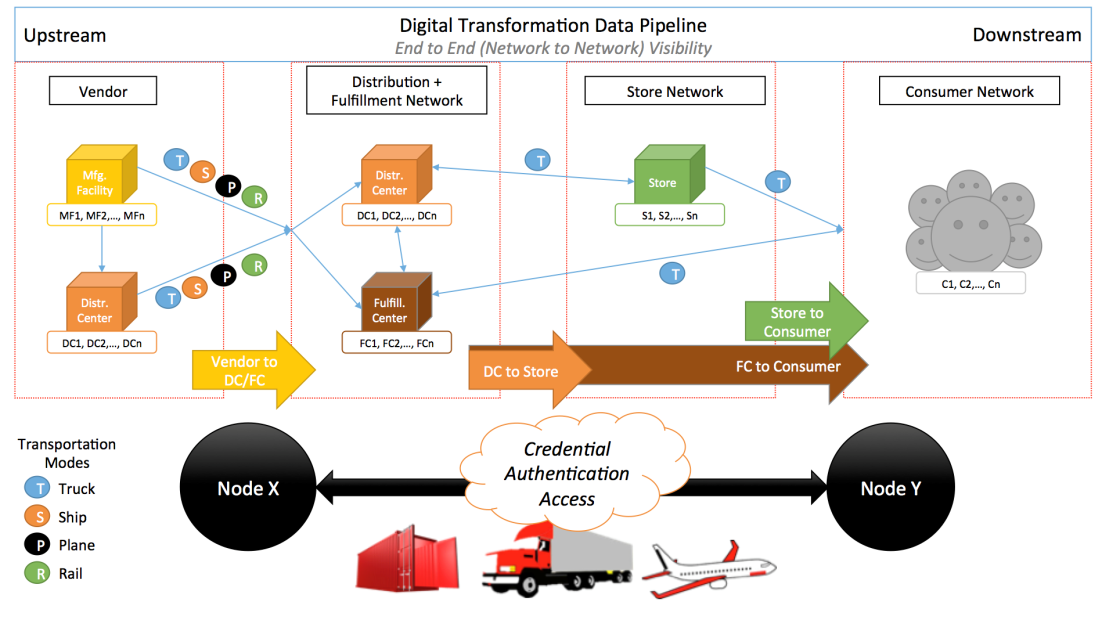 Objectives
---
Supply Chain Digital Transformation is a forum for stakeholders from industry, public policy, academia and innovators to step out of their respective silos to work together on digitizing the supply chain. This event is a result of a joint effort by US Department of Commerce Secretary Penny Pritzker and Nick Vyas, Executive Director of the USC Marshall Center for Global Supply Chain Management to create a platform for collaboration.
The challenge is to make available the relevant data and the resulting ecosystem that will benefit all global trading partners. What is foundational to this digital transformation is the creation of a standards-based cloud infrastructure to retrieve, store and share information. Data generated from production, transportation, storage, stocking, and selling locations will provide a true end-to-end data pipeline.Leveraging connected technologies, such as the Internet of Things, while digitizing legacy systems and processes allows for real-time monitoring of product flow which enables the predictive analytics to improve supply chain planning and execution.
SCDT will demonstrate thought leadership through the sharing of knowledge, best practices, and networking on topics and themes related to digital innovation in supply chain. The hackathon competition on day 2 and 3 will inspire, empower, and enable development of new solutions and approaches to existing challenges in the industry. The event will also offer opportunities for exhibitors to showcase products and services related to digital supply chains.
Format
---
A one-day symposium on November 18 will feature keynote speaker presentations, panel sessions, networking activities and exhibition. The conference will include a networking breakfast, luncheon and a closing reception.SCDT will hold a 24-hour hackathon on November 19-20 for teams of start-up and student developers to create new applications and solutions. Cash prizes totaling $15,000 will be awarded at the end of the competition.
Friday, November 18th - Day 1: Conference, USC Town and Gown
7:30– 8:30am
Program Check-In / Continental Breakfast
8:30–8:50am
Welcome Remarks
Nick Vyas, Executive Director, USC Marshall Center for Global Supply Chain Management


Penny Pritzker

, Secretary, U.S. Department of Commerce (via Video)


Dean Ellis

, USC Marshall School of Business (via Video)


Raymond Chan

, Deputy Mayor for Economic Development, City of Los Angeles


Jeff Weiss

, Deputy Director, Policy & Strategic Planning, U.S. Department of Commerce
8:50–9:00am
Program Agenda: Innovating Port Community IT Systems
Gene Seroka, Executive Director, Port of Los Angeles
Noel Hacegaba, Managing Director, Port of Long Beach
9:00–9:25am
Featured Presentation 1: Leading Technologies for Supply Chain
Rob Allan, Principal, Supply Chain Transformation, IBM
9:25–10:25am
Panel Session A: The Business Case for Supply Chain Data
Supply chains report that they can streamline and optimize their operations, reduce costs, and improve visibility, predictability, and resilience through the better use of supply chain data. What is the business case for supply chains to deploy and invest in better data visibility which is system agnostic and adapts to new technologies? How can innovative and emerging technologies be best used to improve the collection, distribution, timeliness, and cost-effectiveness of supply chain data?

Moderator: Cliff Katab, President, Performance Team


Al Gebhardt

, Head of Labor Relations and Cargo Execution,Maersk Line


Edward Renwick

, Commissioner, Port of Los Angeles


Mayra Ruiz

, Operation Systems Application Administrator, Port of Houston
Paul Bingham, Vice President, Economic Development Research Group, Inc.


Feng Chen

,Lecturer, Data Science and Operations, USC Marshall School of Business
10:25–10:35am
Break I / Refreshments served in Exhibitors Room
10:35-11:00pm
Featured Presentation 2: Digital Transformation @ GE & Four Ports


Jennifer Schopfer

, Executive General Manager, Performance Analytics, GE Transportation
11:00-12:00pm
Panel Session B: Preparing America's Workforce for Digitized Supply Chains
How can America's supply chain workforce be better prepared to use and take advantage of 21st Century supply chain data and information-sharing technologies?

Moderator:

Gene Seroka

, Executive Director, Port of Los Angeles


Al Gebhardt

, Head of Labor Relations and Cargo Execution,Maersk Line


Mark Hirzel

, District Manager, A.N. Deringer, Inc.


Bill Kraus

, Georgia State Director, Office of Apprenticeship, U.S. Department of Labor


Ronald Widdows

, Chairman, World Shipping Council


Dane Jones

, Clerks' Technology Committee Coordinator, International Longshore and Warehouse Union


Jeremy Bridges

, Director of Labor Relations, Southern California Area, Pacific Maritime Association
12:05-1:00pm
Networking Luncheon
1:00-1:25pm
Featured Presentation 3: Leading Technologies for Supply Chain
T.J. Costello, Director Smart Cities – CAN/LATAM/US & IoT US Public Sector- Cisco Systems, Inc.
1:25-2:25pm
Panel Session C: Using Blockchain to Transform Supply Chains
Supply chains are increasingly looking to blockchain software and technologies to help them digitize transactions, track cargo and financial flows, improve end-to-end efficiency, and reduce costs. How can blockchain be best used by end-to-end supply chains? What innovation is needed to expand blockchain use by supply chains?

Moderator: Nick Vyas, Executive Director, USC Marshall Center for Global Supply Chain Management


Arif Ansari

, Associate Professor of Clinical Data Sciences and Operations, USC Marshall School of Business
Angus Champion de Crespigny, Financial Services Blockchain and Distributed Infrastructure Strategy Leader, Ernst & Young


Ranganathan Krishnan

, Vice President, Technology, SKUchain
Aaron Lieber, Program Director, Blockchain Trade Offering Management, IBM
2:25-2:50pm
Featured Presentation 4: Leading Technologies for Supply Chain
Mani Janakiram, Sr. Director Supply Chain Strategy & Analytics, Intel Corporation
2:50-3:00pm
Break II / Refreshments served in Exhibitors Room
3:00-4:00pm
Panel Session D: Port Community Information-Sharing Platforms: Catalyzing Use and Innovation
U.S. ports and supply chains need to consider implementing port community IT systems in order to keep pace with rapidly changing trade trends and maritime carriers' increasing use of container megavessels on their U.S. routes. How is better port-supply chain information flow and data visibility being achieved through port community IT platforms, and by improving cooperation, coordination, and information-sharing between individual ports and their stakeholders and users?



Noel Hacegaba

,Managing Director, Port of Long Beach
Bruce Harsh, Office of Supply Chain, Professional and Business Services, U.S. Department of Commerce


Henrik Jensen

, New Ventures Team, Maersk Line
Steve Balaski, Senior Manager, Business Development, The Northwest Seaport
Alliance (Seattle / Tacoma)
4:00-4:25pm
Featured Presentation 5: Leading Technologies for Supply Chain


Lane Hallenbeck

, Vice President, American National Standards Institute
4:25-4:30pm
Closing Remarks for Conference, Introduction of Jeff Musson
Nick Vyas, Executive Director, USC Marshall Center for Global Supply Chain Management

4:30-5:05pm
Hackathon Challenge Overview
Jeff Musson, SCDT Hackathon Chair

5:05-7:00pm
Networking Reception / Hackathon Team Formation and Registration
7:00pm
End of Conference
Attendance
---
250-300 participants for the conference in addition to 100 -150 competitors for the hackathon.
Location
---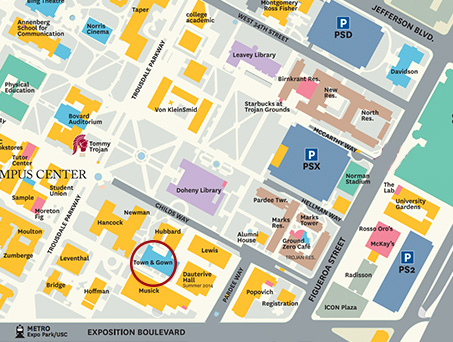 PARKING
---
Parking for the day is available for $12 at Parking Structure 2 near the Radisson Hotel across USC Campus. The closest entrance is on Figueroa St. When you arrive please let the booth attendant know you are here for the Supply Chain Digital Transformation Conference.
 Attached are driving directions to Parking Structure 2 (PS2), located next to Radisson Hotel. Parking is $12.00. Please have the parking receipt visible on the dashboard. Otherwise, citations will be issued.
Topics
---
Cloud technology, Supply Chain IT, Blockchain, Data and Analytics, Wearables, Digital Sprints and Innovative Practices, Disruptive Technologies, E-Commerce and Retail, IoT integration
Sponsorship
---
Sponsorship benefits include broad recognition, speaker opportunities, display of signage, and registrations. Exhibition space for booths and tables for sponsors are available.
Contact: Eric Chow, Associate Director, USC Marshall Center for Global Supply Chain Management echow@marshall.usc.edu; or tel. 213-821-0093